Hay Al Rahba
We stay at the Hay Al Rahba complex in Al Khuwair Muscat.
What I like most the complex where we stay is the fact that it so green. Green in more than just the visual sense.
Green it is, even now when night time temperatures reach 42 C.

. The play areas are covered with a nice green lawn. The roads are lined with date palms that are now heavy with ripening fruit. Lemon trees that will soon be full of and I mean full of the most luscious lemons you can see. Shrubs full of white flowers, neem trees, the basil, hibiscus .....I could go on.

. Going for a walk in the complex is pleasure and oftentimes the bonus is a whiff of Jasmine or the Rangoon Creeper (what we call Honey Suckle in India).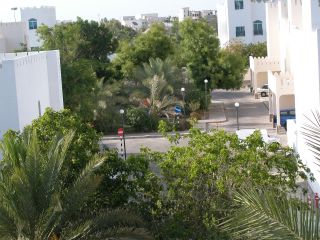 .

. Now comes the unglamorous part.
There is also a septic tank at the far end of the complex. All sewage water is piped into the septic tank. Additionally, tankers bring in the sewage water from other properties of the group that owns this complex.
The sewage water is treated and piped right back to the gardens. There is a robust drip irrigation system and with a turn of the tap, the long stretches of trees and shrubs can have their fill of water.
And our eyes, often blinded by the brilliant sunshine and the bright blue skies, can drink in the soothing green.
Hurray to some excellent waster water management.